January 26th, 2015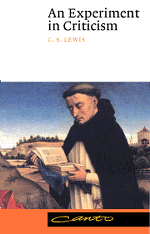 A book few readers of C. S. Lewis will ever voluntarily pick up has the unwieldy, even forbidding title, An Experiment in Criticism.
The title conceals more than it reveals. An experiment in what? And criticism of whom? The title doesn't tell. It's the classic book that you need to know what it's about before you know that you'd want to read it. But you won't know that unless a friend shoves it in your hand and won't let you shove it back. In a nutshell, it's a theology of reading. And I once wrote a whole dissertation on it at the University of Texas.
But if I want you to investigate it, I'm going to have to do more than praise it. I've got to give you some incentive for tracking it down and digesting its wisdom. So first, here are three reasons to give it a try:
---
More posts
---
by Dr. Bruce L. Edwards If C. S. Lewis were present today, where I live in Willow, AK, he would be celebrating his 116th birthday, and probably would be up for a brisk walk on this Arctic tundra that is home to many of his readers and admirers, even in this village of less than 2000—as long as it […]
I am pleased to announce four new seminars are available for scheduling in 2015-16: Reading the Bible With C. S. Lewis Four Lively Friday-Saturday sessions cover these topics: The Authority of Scripture and the Ancient Tradition How Lewis Makes the Word Flesh and Fresh How Lewis Counseled with Scripture How Scripture Informs Lewis's Work and […]
---
By Megan Robinson, CSLewis Review, Associate Editor "It was when I was happiest that I longed most. It was on happy days when we were up there on the hills, the three of us, with the wind and the sunshine…where you couldn't see Glome or the palace. Do you remember? The colour and the smell, […]
The Center for the Study of C. S. Lewis and Friends Announces The 9th Francis White Ewbank Colloquium May 29 – June 1, 2014 Taylor University Upland, Indiana REGISTRATION DETAILS HERE. Frances White Ewbank Colloquium May 29-June 1, 2014 KEYNOTE SPEAKERS Thursday, May 29 7:30-8:30 KEYNOTE ADDRESS: Michael Ward: "Silent Witness: The Horse and His […]
---
Rebecca Au Rebecca Au is a twenty-year-old studying Media, Culture, and the Arts at The King's College in New York City. She is a question-asker, letter-writer, and joy-seeker who straightens crooked punctuation in her spare time. rebeccasau.tumblr.com "Those forms in which everything is there for the sake of the story have been given little serious […]
by Dr. Bruce L. Edwards Professor Emeritus, English and Africana Studies Bowling Green State University Note: this was first published when the movie debuted more than 22 years ago. My views here recorded have not mellowed over time. Shadowlands, a movie (very) loosely based on the life of C. S. Lewis and his marriage to […]
---
By Bruce Edwards Today we celebrate the life of Clive Staples Lewis on the 50th anniversary of his death on November 22, 1963. His induction today into Westminster Abbey's Poets' Corner provides Professor Lewis with greater honor and attention than he could have ever imagined in his lifetime. How did he get here? How did […]
On November 17th and 19th, Alaska residents will have the opportunity to hear Dr. Bruce L. Edwards, an internationally known C. S. Lewis scholar and presenter, speak on the commemoration of the 50th anniversary of C. S. Lewis's passing. In two lectures planned for two different venues, Edwards will deliver two slightly different presentations but […]
---
Hear a discussion of Narnia scholars about their hopes and concerns about the recent announcement that the fourth Narnian movie would be made, based upon The Silver Chair. Here's host and producer, William O'Flaherty, click here: The Silver Chair discussion, Part 1.
by Dr. Bruce Edwards <aslandad00@gmail.com> Born in Belfast, Northern Ireland on November 29, 1898, Clive Staples ("Jack") Lewis was reared in a peculiarly bookish home, one in which the reality he found on the pages of the books within his parents' extensive library seemed as tangible and meaningful to him as anything that transpired outside […]
---
The Narnia podcast series. yours truly is the first guest commentator, on LWW. Six more podcasts will follow, one each on subsequent Narnian tales. Other guests include Devin Brown, Will Vaus, David Downing, Charlie Starr, Louis Markos, and Kevin Belmonte. — Click here: The Lion, the Witch, and the Wardrobe: Narnia Cast on the Middle […]
(I first performed this dialogue as early as the late 1990s, and later published it in a different version as an epilogue to my Not a Tame Lion [Tyndale, 2005]. Here is an updated version of my fictional dialogue with Jack. – BE) Prologue I wandered cyberspace, as I often do, stumbling aimlessly in an […]
---
View Full Archives | Back to top